A truly unique headset consisting of an innovative cap, wireless amplifier and water-based electrodes.

excellent signal quality,




comfortable, long measurements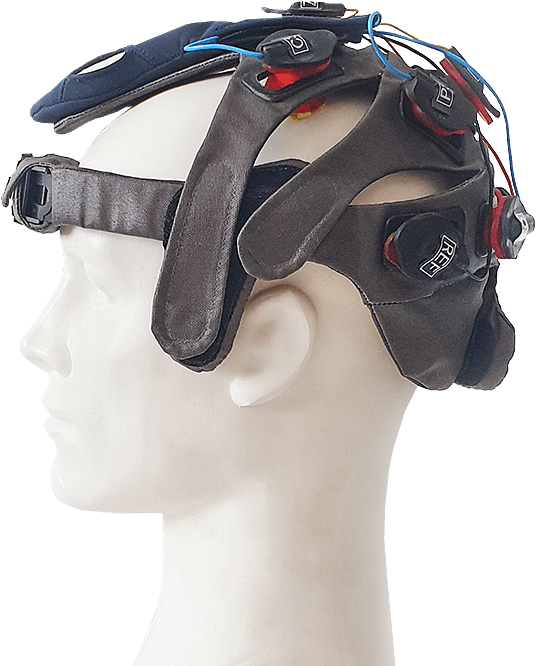 Online impedance measurement
Resolution: 24-bit, 44 nV / bit
Measuring range: +/- 373.5 mV
Input impedance: 1 GΩ
Sampling frequency: 500 Hz
Internal noise: 1.43 µV p2p; 0.2 µV RMS; (20.3 b)
Battery life: 8 hours
Charged via the USB-C port
Time synchronization with the computer clock up to 1 ms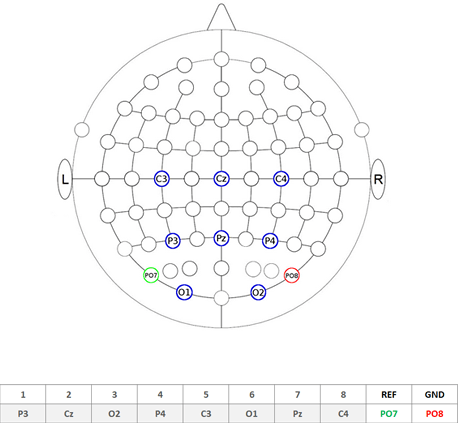 Developed as part of the "Brain-Computer Interface" project, the prototype successfully passed various tests, topped by a BCI operation test with the participation of 30 people. Results are submitted to be published in a journal of international repute.

Each of the participants was able to communicate via at least one of our interfaces, which puts into question the idea of "BCI illiteracy" so widely discussed in the literature on the subject.
HEADSET LIVE AT THE CONFERENCE
On 26 May 2018, during the lecture titled "Recent advances in brain-computer interfaces from BrainTech.pl" delivered at "XI Electrophysiological Conference", we tested live the prototype of wireless EEG headset.
APPLIED IN RESEARCH AND INDUSTRY

Blinker is a one-of-a-kind device generating high-accuracy, high-frequency stimuli to BCIs based on the SSVEP paradigm.
SSVEPs are steady-state visual evoked potentials which appear in EEG when the user focuses on a visual stimulus flashing at a constant frequency. The user sees a variety of elements on the screen, selectable by concentrating on a particular element. This leads to an EEG power increase at the frequency corresponding to that element.
Blinker by BrainTech allows for highlighting each of 320 segments of a 15-inch screen independently with various frequencies. This opens unprecedented opportunities for analysis on which part of the screen (movie, picture, ad…) the user is concentrating her/his attention—as opposed to gaze—at the moment.
THE FASTEST BCI
By displaying all stimuli simultaneously, SSVEP-BCI proves to be the fastest modern-day brain-computer interface. Based on a truly unique device dubbed "Blinker" developed by BrainTech, SSVEP-BCIs focus primarily on higher frequencies that are virtually unnoticeable by humans and are safe to them. The video shows how one of the first Blinker prototypes operates at the CeBIT expo.
Blinker  with "keyboard" application
Blinker is used for high-frequency SSVEP stimulation. Each field of the displayed keyboard is highlighted with a square wave at unique frequency within the range of 30- 40 Hz.
15.6 inch LCD screen
LED-backlit screen, 1920 diodes in 320 independent segments
Possibility to configure any segments into a single controllable "field"
Possibility to configure any field in terms of:

brightness
brightness buffer
buffer playback frequency (ranged from 0.1 Hz to 60 Hz with accuracy of up to 0.1 Hz)
phase shift

Possibility to turn on/off and change parameters of any field in real time
Micro-controller updates the condition and brightness of any field with maximum frequency of 10 kHz (every 100 μs)
Time from a request to a response less than 500 μs
Device global brightness controlled with buttons or relevant instructions
Galvanically isolated connector for generation of the synchronized analog signal:

+5 V, -5 V, GND, +SIG inputs;
SIG output sends a signal synchronized with the equipment operation as configured via USB

Image displayed on the screen via HDMI
32-channel EEG amplifier
USB-powered
A 32-channel traditional EEG amplifier offers 8 independent bipolar channels and a standard cap connector, enabling the recording of 10–20 system derivations. Light, compact, USB-powered, allowing for EEG and ExG recording.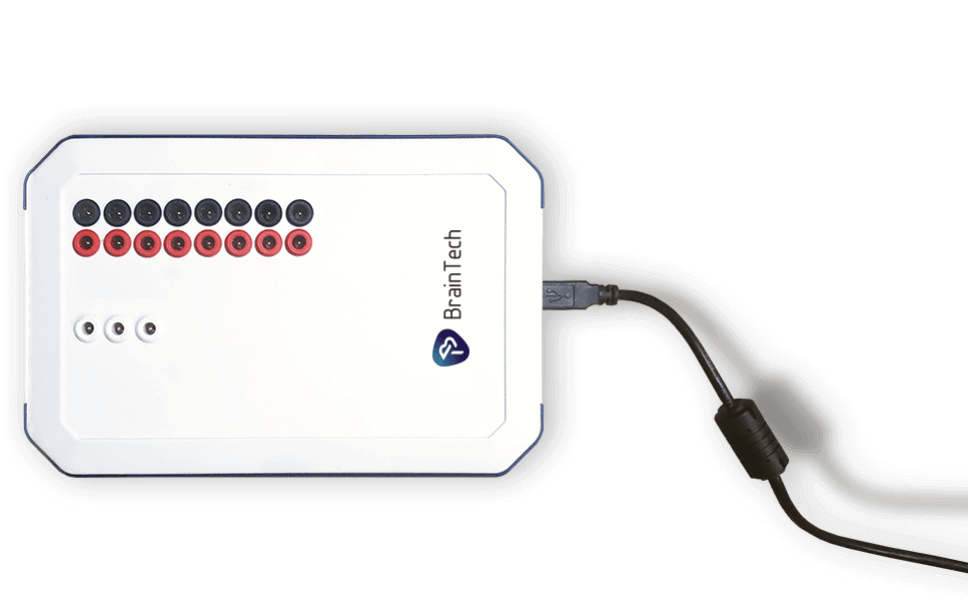 If you're interested in our amplifier, contact us!
Power supply and communication via USB
24 unipolar channels via a DB25 connector for standard connection of a 10–20 system electrode cap
8 bipolar channels available via standard touch-proof connectors for popular accessories
Additional Analog Ground channel
Sampling frequency: 500, 1000, 2000, 4000, 8000, 16,000 Hz
Digital input capable of synchronizing with external equipment
Time synchronization of the computer clock and the amplifier clock with accuracy of up to 1ms
Dimensions: 185x125x33 mm
Weight: 400 g