Discover comprehensive EEG and BCI solutions for science, education and business.
For each product you will receive complete software for EEG signal recording and analysis.
Perun-32
32-channel universal amplifier for measuring various biomedical signals, powered by USB-C


7 independent bipolar channels for EMG, EEA and ECG recording

channel dedicated to GRS measurements

DB25 adapter -> Touch Proof (for connecting standard electrodes)

amplifier powered directly via USB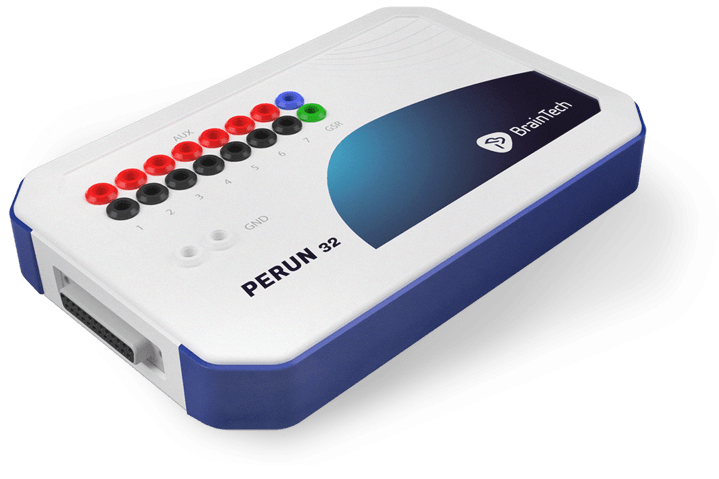 electrodes for peripheral measurements (EMG, EEA, ECG) and other accessories

dedicated software for signal visualization, recording and analysis, as well as designing and conducting psychophysical experiments

Perun-32 Amplifier
Power supply and communication via USB
24 unipolar channels via a DB25 connector for standard connection of a 10–20 system electrode cap
7 bipolar channels available via standard touch-proof connectors for popular accessories
Additional Analog Ground channel
Sampling frequency: 500, 1000, 2000, 4000, 8000, 16,000 Hz
Digital input capable of synchronizing with external equipment
Time synchronization of the computer clock and the amplifier clock with an accuracy of up to 1ms
Dimensions: 185x125x33 mm
Weight: 400 g

The software
allows you to register and preview online signals and markers (Svarog Streamer)
allows access to source code and Python API for signal download and analysis
includes the BCI Demo P300 application – illustrating the operation of a simple brain-computer interface based on the P300 paradigm
enables the design and conduct of psychophysiological experiments in combination with video-EEG (optional – Svarog Lab)

Perun-32 Start kit accessories *
2 EEG caps (S/M/L sizes)
14 bipolar snap electrodes (7 pairs of electrodes + 1 spare)
DB25  Touchproof connector (for connecting standard electrodes)
1 GSR measurement kit
USB cable
carrying case
* possibility of modifying the set of accessories
With Perun-32 you get a universal, small-size amplifier with open software for professional, various measurements of biomedical signals at a very attractive price.
EXAMPLES OF APPLICATIONS
scientific research (psychology, neuropsychology, biology)
neuromarketing
didactics (student laboratories on psychophysiology, analysis of physiological signals, brain-computer interfaces)
design of assistive technologies and brain-computer-brain interfaces